"LET HIM FLY" -the NEW single (w/band)- b/w "EVERY LITTLE BIT"
The original vocal tracks have been preserved from the "Living With Ghosts" CD and have been augmented with "new" instrumental tracks and additional remixing. The new versions capture all the "emotional intensity" of the original tracks and deliver a dynamic "second look" at these compositions.

"Let Him Fly"-543k wav file, 49 sec.

"Every Little Bit" -540k wav file, 49 sec.
"I WRITE THE BOOK"-(1991)
A rare glimpse at the "unsigned" artist Patty Griffin, circa 1991. This track originally appeared on her 6-song "indie" cassette which she sold at concerts. It also was on a singer/songwriter compilation CD called "LEGACY II", on the High Street label (now out of print), from which this clip was taken.

"I Write The Book- 780k! wav file
LIVING WITH GHOSTS (A&M-1996)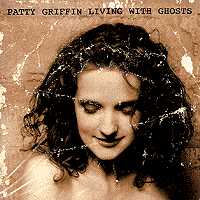 Patty's debut album for A&MRecords, has won critical acclaim. "Pure energy and emotion, and a voice that raises goose bumps like a charmer raises snakes."
Track list:
moses
let him fly
every little bit
time will do the talking
mad mission
poor man's house
forgiveness
you never get what you want
sweet lorraine
not alone